Say No To Big Fat Indian Wedding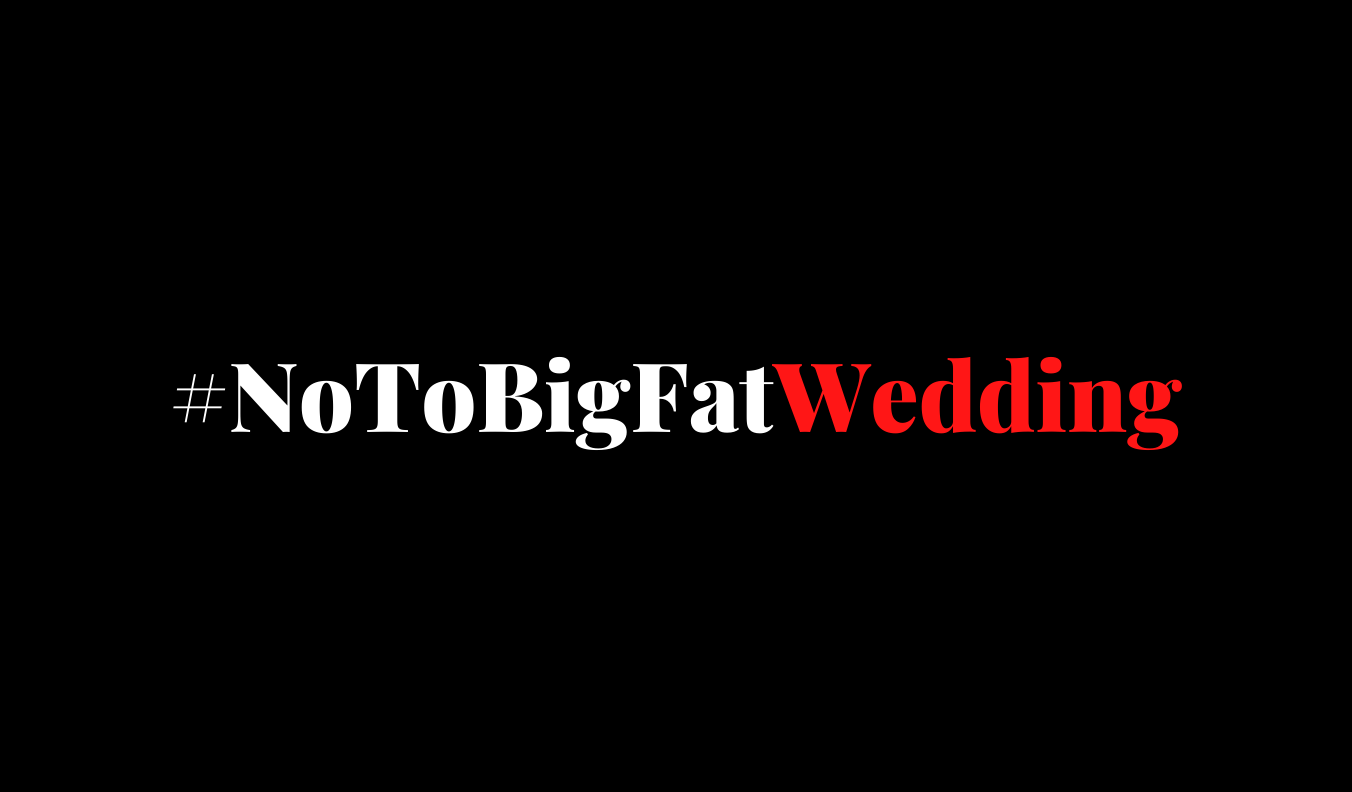 125650 have signed. Let's get to 200000!

"I want my The-Day to be the perfect one. Let's keep everything, designer."
"Udaipur. Agra. Jaipur. Kerala. I want nothing less than a destination wedding for my son or daughter."

These are some of the common phrases we hear in Indian families when it comes to marriages. We all are so enthusiastic for extravagant and pompous weddings that it is challenging to go minimal. At this point, let us not underestimate the size, and worth of marriages in India. We all want to be the show stoppers where the wedding plans and costs touch the infinite limits of the sky.

Sit back and shake up yourselves with the following facts that Nikah Forever wants to throw light upon: Indian wedding market- the second largest after the US with an estimate of 3 Lakh Crores.

Are you surprised already?
It is very disheartening to see how marriages have turned into a business. Not many stories are shared on social media concerning anxiety and depression to fit into the societal picture just to prove extravagant weddings are the better weddings.

Do you know an average Indian spends almost one-fifth of his lifetime accumulated wealth?
Worse case, 20% of loan applications are received for fulfilling the marriage expenditures by Indians between 20-30 years.

The cost incurred for food, designs, themes, venues, aesthetics, is so much that the burden was on a constant rise for decades. But till when? Someone has to dare to be the torchbearer to put a full stop on the big band weddings.

We, as humans, we're so incapable of breaking this taboo that coronavirus had to step in and set a new scenario for Indian weddings. For the last six months, we are concerned about our safety first, which has made possible the impossible.

When was the last time you attended a 1000 people gathering? Dancing on the DJ? Trying out every new dish in the Buffett and wasting half of it?

Coronavirus has helped us in saving our hard-earned money. Today, people are very comfortable with sharing the auspicious occasion of the wedding with just 40-50 people. Simple food, no extra pomp and show, minimal traditions and the bride and the groom are each other.

Is this not the only thing weddings are supposed to do?

We, at Nikah Forever, have taken the pledge to say no to big and extravagant weddings even after the coronavirus leaves us. We pledge to fulfil the bond of matrimony in the most modest way possible.

Why should you say No to big fat weddings?
Save money Minimize wastage Protect the environment No need to fake a smile to 1000 unknown guests 😄

A small step with you and a 100 more like you will help us to break this myth and continue a more mindful way of living and planning weddings.

Covid 19 wrote history for marriages in India, what people couldn't achieve in roundabout way till now this virus did in one go. "Grand turned into economical in no time". "Find out how?"

Head over to our blog "10 ways to limit your expenditure on weddings" to know more about planning short and beautiful weddings. Who knows this might be the best guide for weddings in 2020 and beyond!
Are you with us?

#NoToBigFatWedding
125650 have signed. Let's get to 200000!